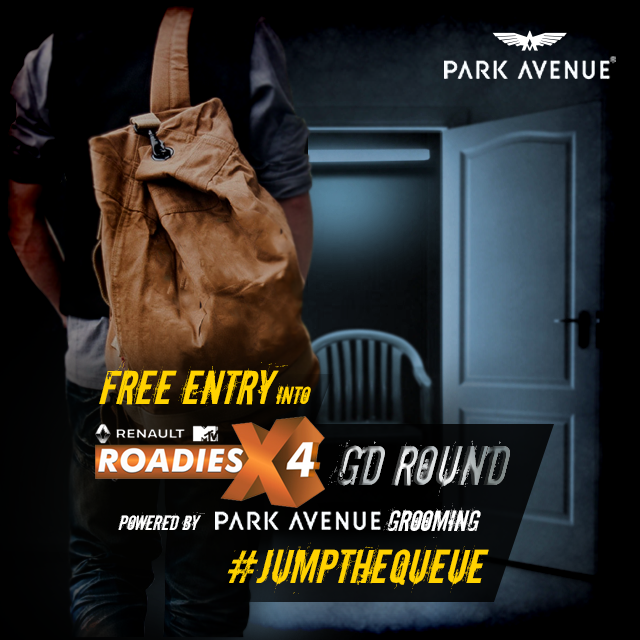 Jump The Queue

for a direct entry into the GD round of the

MTVRoadies

Pune auditions.

Contest begins Now CLICK HERE
1) The final rightto choose the winners rests with the management of Park Avenue and their decision shall stand final.
2) One person is eligible to win only once.
.
3) The participants must be residing in India. Entries from fans residing outside India won't be considered valid.
4) To participate,participants must follow us/ like us, answer the question, use #JumpTheQueue & tag us
5) Entries, whichc ome after the contest ends will be considered invalid
6) If any entry is found to have abusive or profane language, or an attempt to attack the integrity, personality of any individual or an entity or where there is any attempt to harass any individual or an entity or doing/having anything which in our view is demeaning or derogatory, such entry shall stand disqualified from the contest.
7) Acceptance of an entry is subject to the discretion of management of Park Avenue.
8) Management of Park Avenue reserves the right to reject any entry or disqualify any participants from participating in the contest without assigning any reason.The decision of the management of Park Avenue in this regard shall be final and binding upon the participants without any demur or objection.
9) Passes will be given to the winners at the venue of the audition. Winners need to present a hard copy of the confirmation document, which will be sent to them via email. Failure to produce the confirmation document at the time of the auditions will not get you the aforementioned pass.
10) Passes are not subject to exchange/ replacement / redeemable for cash or kind.
11) Passes are non-transferable and can be used only by the participant who has won it
12) Passes for the Pune auditions can only be used in Pune.