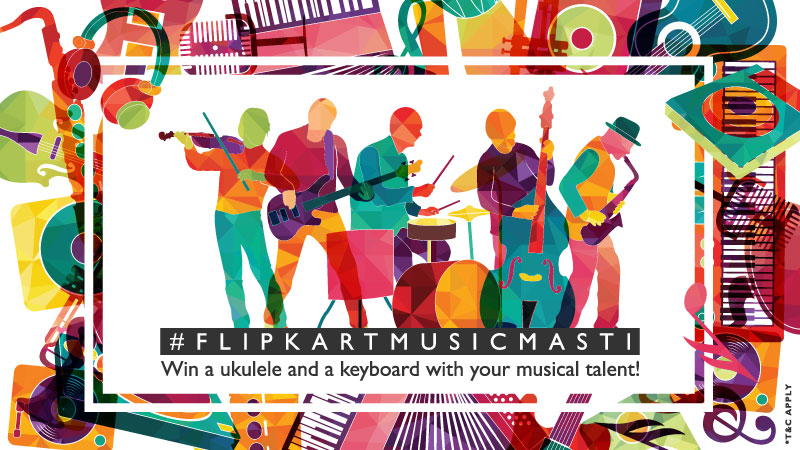 Just do a 60-second music video and sing the words 'Flipkart', 'Music' and 'Masti' in it. It does not really matter if you're a professional, a bathroom singer or beatboxer or a band, all you need is your phone camera and a song. Once you're done, upload the video on Instagram with the hashtags #FlipkartMusicMasti and #WorldMusicDay
>> ENTER HERE
Last Date is
June 21, 2018
(World Music Day)
Eligibility Criteria

: age 18 years and above
Contestants are required to create a 30-60 second original music video.

The music video must include the contestant(s) singing the following words: Flipkart, Music & Masti.

The music video must be posted on the contestants' own Instagram account between

June 14 and June 21

, 2018

The music video can be created by individuals, bands or collaborators.

All entries must use

#FlipkartMusicMasti

and

#WorldMusicDay

and tag @FlipkartStories and three active Instagram friends

Entries must be original compositions and should not infringe on copyrights of a third party.

Cost of production of the music video shall be borne by the participants themselves.

Entries must not contain any profanities or indecent references/insult to any community.

The choice of language, instruments and genre are open.

2 mega winners get a Keyboard & Ukelele respectively. Specifically:
a. Kadence Concert Ukulele semi acoustic with equalizer
b. CASIO Keyboard CTK-3500

All prize-winning entries will be showcased on Flipkart Stories.

5 additional winners are eligible to get EGVs worth ₹1,000 each.