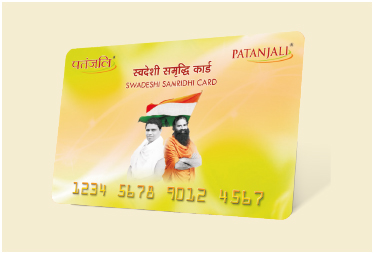 Baba Ramdev is continuously expanding Patanjali's business. After partnership with e-commerce companies, the company is now bringing the indigenous Prosperity Card for digital payment. It will be launched on 26th January. Through this card, people will be able to buy Patanjali's product on special discounts, besides card holder will also be given insurance of Rs. 5 lakhs.
Under this scheme, customers who become members will be given a 'Debit Card'. Through this, you can pay in Patanjali's store, hospital and health center. POS machines will be arranged in each of the registered centers. The card will also be a picture of Baba Ramdev and Acharya Balkrishna with the tricolor.
5 to 10 percent special discount On behalf of Patanjali, it has been said that special discount (cash back) will be given to 5 to 10 per cent on purchase of products from Swadeshi Prosperity Card. You will have to pay 150 rupees to make this card. Apart from this, annual maintenance and renewal fees of Rs 20 will be payable.
Minimum Top Up 1000 Rupees The card will have to top up with the minimum 1000 rupees for the first time and the minimum balance should be 500 rupees. Up to 4000 rupees will be given 5 percent of indigenous loyalty to the members on top-up. Up to 4000 to 5000 top-up 6 percent and above the top-up will get 7 percent indigenous loyalty amount. That is, if you deposit 1000 rupees on your card, you will get a balance of 1050 rupees
Insurance cover Through this card you can make a purchase of Rs 9,999 a day. Indigenous Prosperity Card holders will be covered under Swadeshi Loyalty Cooperation Scheme. Rs. 5 lakhs on accidental death of card holder or card holder nominee and Rs. 2.5 lakhs on permanent disability will be done by Patanjali.