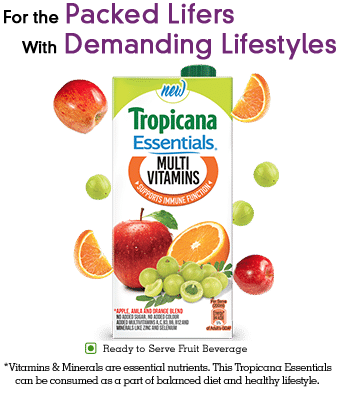 How to Get Free Sample of Tropicana Essentials Multivitamin 200ml (Pack of 2) Samples?
1.
F
irst of All
Visit offer Page >> ENTER HERE
2. Fill All Details shown in Page like Name, Mobile Number, Emails Etc.
3. Your age Should be 25 to 30 Only.
4. Carefully Fill out the Shipping Details.
6. Click on "Get Your Free Sample Now".
7. Now, Do a Payment with your Suitable Method. (Only Rs.10) (You will get that back as Lybrate Cash)
It contains 100% squeezed juices with added vitamins to help you get a nutrition boost. Tasty blend of Orange, Apple and Amla. Supports immune function and meets 30% Daily Requirement of 5 Immunonutrients: Vit C, B6, B12, Zinc, Selenium